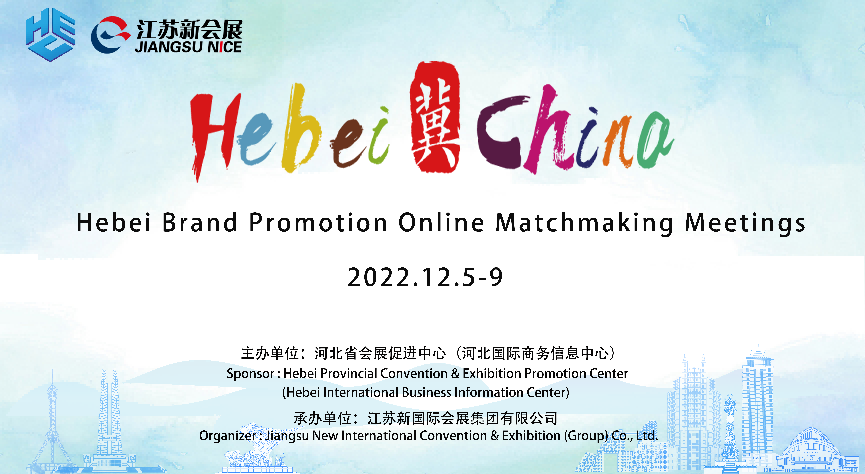 The program"Hebei Brand Promotion" , guided by Hebei Provincial Department of Commerce and organized by Hebei Provincial Convention and Exhibition Promotion Center, integrates promotions, exhibitions with business negotiations, aiming to promote Hebei brands to the world. The program takes "Brand Hebei, Win-Win Cooperation" as the theme,through a series of activities on publicity and promotion, business matching and negotiation, exposition and displaying etc., It forges an online and offline mutual linkage, publicizes and supports self-owned brands in Hebei Province to improve the popularity and competitiveness.Through the activity, Hebei's export volumn could be facilitated as well as its quality and added value of products improved.
The event will be held from 12 to 16,December,2022, inviting global enterprises to participate in this event and Hebei Enterprises in-depth exchanges, to promote trade with Hebei Enterprises, the exhibits include: Traditional Chinese medicine, textile, hardware, building materials, daily consumer goods, etc. . Please contact Edison if you need to attend, email address: 892506264@qq.com
Avertissement: Cet article est reproduit à partir d'autres médias. Le but de la réimpression est de transmettre plus d'informations. Cela ne signifie pas que ce site Web est d'accord avec ses opinions et est responsable de son authenticité, et ne porte aucune responsabilité légale. Toutes les ressources de ce site sont collectées sur Internet. Le partage est uniquement destiné à l'apprentissage et à la référence de tous. En cas de violation du droit d'auteur ou de la propriété intellectuelle, merci de nous laisser un message.